Last year I built what I call a "side shed" – that is a shed along the side of my house, to store bicycles, gardening equipment and whatnot. I thought I'd describe it here in case anyone else may find this useful.
The gap between the house and the fence was less than a metre, so not enough room to put a regular shed, therefore I decided to build my own. After carefully measuring the space, I used SketchUp to design the structure.
My design uses the following materials (all sizes in mm):
150×22 treated softwood – for the ends and sides
70×48 treated softwood – for the rafters and gate posts
75×75 fence posts – for the uprights
700×10 twinwall corotherm sheet
Glazing bars, end caps, side flashings and fixings required for the corotherm
50×65 Joist hangers – for fixing the rafters
10×100 Multi-monti bolts – for fixing to brick
Flashband – for sealing the corotherm to the brickwork
Postcrete – for anchoring the posts
Regular wood screws of various sizes
In addition, I used an old fence panel to provide the sheet material for the gates, which was sandwiched between the 150×22 timber frame.
Construction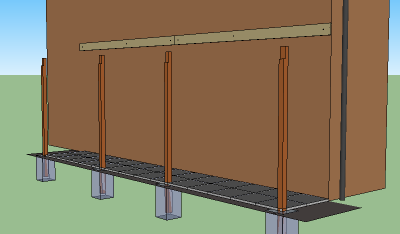 Secure side to wall
Cut notches in top of posts
Dig holes for posts and fix in place with concrete – making sure they are in the right position with respect to the wall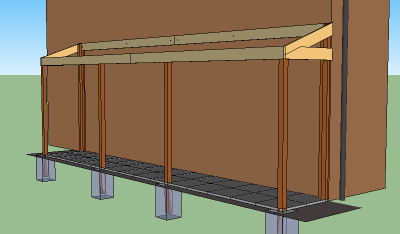 Cut gate uprights and secure to wall
Cut ends and fix between gate uprights and posts
Fix other side in post notches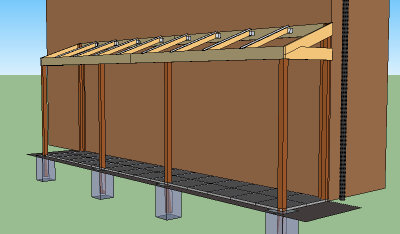 Cut rafters to required size
Cut glazing bars and fix to rafters
Fix joist hangers and rafters in place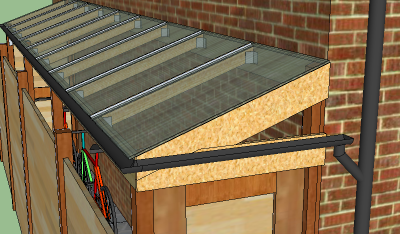 Cut corotherm sheet and apply end tapes and end caps
Secure corotherm sheet between glazing bars with caps and fixings
Install flashband between corotherm and brick
Cut and install guttering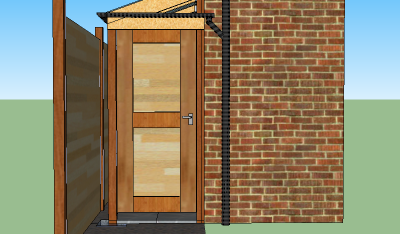 Construct gates and fix with hinges
Install locks and handles